News of Madhya Pradesh India
Hindi news portal of Bhopal. read regular fresh news of Bhopal, Indore, Gwalior, Jabalpur. whole state reporting with MP News Portal
26 May 2014
Narendra Modi took Swear of PM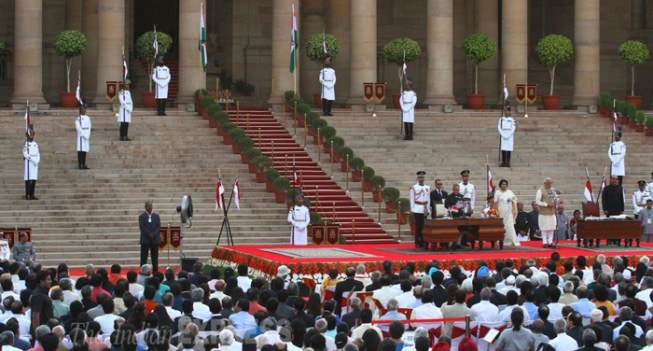 NEW DELHI: BJP designate prime minister post leader Narendra Modi took oath as 15th prime minister of India. language used in modi oath was Hindi. modi is also called by alias name 'Namo'. modi real name is Narendra Damodardas Modi. he is 63 old former chief minister of Gujarat. modi invited by president of country Pranab Mukherjee to form government at center. modi is first prime minister which birthed in independent India.
First time any Pakistani prime minister including in swearing ceremony of Indian prime minister. modi has been four times chief minister of Gujarat. BJP first time forming government in India on self majority. 30 year after any party forming government in country with majority.
Prime minister of India oath ceremony on Monday evening at out courts of the Rastrapati Bhawan. around 4000 guest were invited in oath ceremony of modi including eight SAARC nations chief, BJP worker, supporter, tea vendor, NDA leader, UPA leader, Bollywood star, former prime minister, president, big leader, business tycoon. modi take oath with 45 ministers. tight security in swearing function and neighboring area at president house. public transportation stops at near president house for security purpose.
Cabinet ministers oath included Rajnath Singh, Sushma Swaraj, Arun Jaitley, Venkaiah Naidu, Sadananda Gowda, Nitin Gadkari, Ram Vilas Paswan, Uma Bharati, Maneka Sanjay Gandhi, Ananth Kumar, Ashok Gajapathi Raju, Ravi Shankar Prasad, Anant Geete, Gopinath Munde, Kalraj Mishra , Radha Mohan Singh, Jual Oram, Thawar Chand Gehlot, Najma Heptulla, Narendra Singh Tomar, Harsimrat Kaur Badal, Smriti Irani and Harsh Vardhan.
NDA was win 336 and BJP win 282 seats out of 543 seats for 16th parliament election in 2014. winning BJP choose Narendra modi their leader in parliament. modi family did lot of struggle and support modi to dream come true. it is historical day of country when childhood tea vendor and 4 time chief minister of Gujarat take swear as Prime Minister of India on 26 may 2014. country have lot of hope and expectation from prime minister.